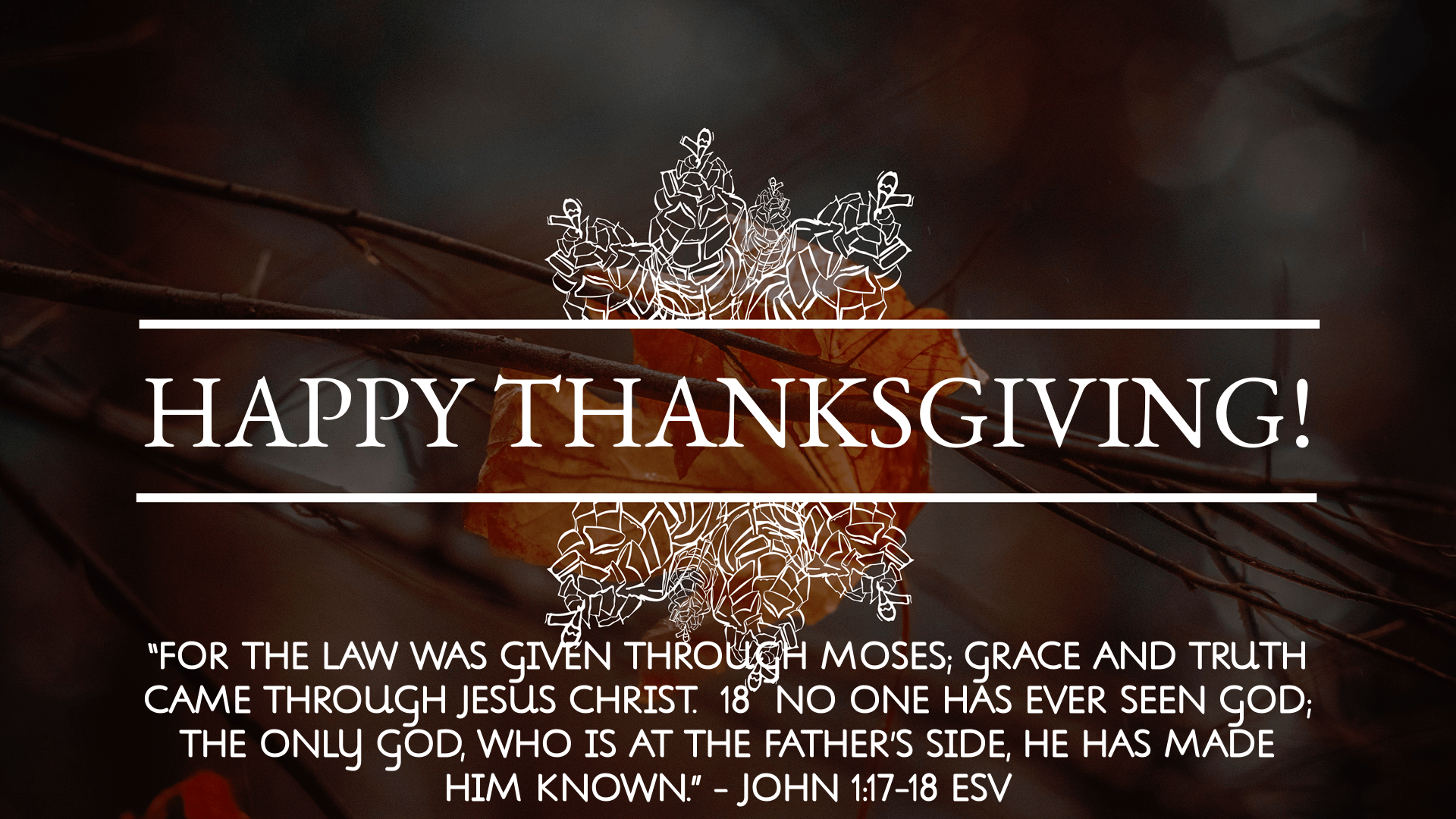 As you approach Thanksgiving this year, it is a joy for me and the Compass Church to wish you and your family a blessed and Christ-filled Thanksgiving celebration. God invites and even commands His people to give thanks for the blessings He has given us. He does so, not because He needs it, because His glory requires it. Perhaps more than ever, we need to be reminded of just how small we are and how big our God truly is. Consider this passage from Deuteronomy just after Moses delivers the Ten Commandments. Here, Moses reminds the people of God's glory and how it is capable of not only being majestic and beautiful, but also of striking us dead…
"These words the LORD spoke to all your assembly at the mountain out of the midst of the fire, the cloud, and the thick darkness, with a loud voice; and he added no more. And he wrote them on two tablets of stone and gave them to me.  23  And as soon as you heard the voice out of the midst of the darkness, while the mountain was burning with fire, you came near to me, all the heads of your tribes, and your elders.  24  And you said, 'Behold, the LORD our God has shown us his glory and greatness, and we have heard his voice out of the midst of the fire. This day we have seen God speak with man, and man still live.  25  Now therefore why should we die? For this great fire will consume us. If we hear the voice of the LORD our God any more, we shall die.  26  For who is there of all flesh, that has heard the voice of the living God speaking out of the midst of fire as we have, and has still lived?  27  Go near and hear all that the LORD our God will say, and speak to us all that the LORD our God will speak to you, and we will hear and do it.'  28  "And the LORD heard your words, when you spoke to me. And the LORD said to me, 'I have heard the words of this people, which they have spoken to you. They are right in all that they have spoken.  29  Oh that they had such a heart as this always, to fear me and to keep all my commandments, that it might go well with them and with their descendants forever!  30  Go and say to them, "Return to your tents."  31  But you, stand here by me, and I will tell you the whole commandment and the statutes and the rules that you shall teach them, that they may do them in the land that I am giving them to possess.'  32  You shall be careful therefore to do as the LORD your God has commanded you. You shall not turn aside to the right hand or to the left.  33  You shall walk in all the way that the LORD your God has commanded you, that you may live, and that it may go well with you, and that you may live long in the land that you shall possess.
Deuteronomy 5:22-33 (ESV)
A couple of thoughts are instructive here…
We should be Thankful for the commands of God. Think about it, God took time to speak and provide loving guardrails for His people. In my own life, I am reminded of a time when I was a boy and chopping wood with my father. We had a massive amount of wood to chop in our backyard and I was ready…more than ready…to prove myself to my dad and demonstrate my strength and prowess. As we both were chopping away, my dad stopped me and provided a warning. I did not immediately heed the warning and had a poor attitude and kept chopping. Then he stopped me and the whole process and took the axe away and we had a…discussion. In the moments that followed my dad helped me understand that my swing was coming perilously close to one of my legs. I was swinging and standing incorrectly and I was in real danger. I did not like the correction at first, but all these years later I see the wisdom and love of my father. I needed to humble myself, listen, and receive correction, and then take a different approach. He was right, I was wrong, and I was in trouble. The same is true for our heavenly Father. Just before the passage above, Moses had given God's commands. God had to pull His people aside, take away the axe and humble them and redirect them from a multitude of pathways that would ultimately prove dangerous and destructive. We should also listen, learn, and obey.
We should be Thankful for the glory of God. When Moses got finished delivering the Ten Commandments, he explained to them just how thankful they should be that God did not just kill them on the spot. Instead, God spared them and granted them continued physical life and the blessing of spiritual life through His words. They would not only be protected from Him and from physical and spiritual destruction by heeding His commands, but because of His gracious choice to not show Himself to them! Did you catch that? God withheld His glory because the people were not able to bear it. The people also realized that they had been protected from God Himself, "This day we have seen God speak with man, and man still live.  25  Now therefore why should we die? For this great fire will consume us. If we hear the voice of the LORD our God any more, we shall die.  26  For who is there of all flesh, that has heard the voice of the living God speaking out of the midst of fire as we have, and has still lived?" God's glory is capable of such power, majesty, beauty, and holiness that to be in His presence – in our current fleshly state – is to be instantly consumed, killed, and eternally destroyed.
So why should be thankful for that?
We should be thankful because it means we serve a God much bigger and more powerful than our human weaknesses and our trails in this life. You see, if we do not have a God who is stronger and wiser and capable of great and terrible power, then we have little hope of getting through this life or the next without destruction. We need a God who not only intervenes with loving commands but is also capable of changing us. The very fabric of our being must be altered so we may gain entrance to eternal life without fear of eternal destruction.
On this Thanksgiving 2019, it is my joy to invite you to be thankful…for the glory of God! But the story of the glory of God does not end with a bunch of commands and "hooray, we are not dead!" The glory of God culminates in the incarnation (becoming flesh) of Jesus Christ. The very power that could instantly crush and destroy was sent to earth in form of a man – to live a sinless life – die a sinners death – and three days later come out of a grave in glorious power to provide us the opportunity to be forgiven from sins and transformed. In Christ, we may be prepared to one day see God and be in His presence without fear and without destruction!
He came to his own, and his own people did not receive him.  12  But to all who did receive him, who believed in his name, he gave the right to become children of God,  13  who were born, not of blood nor of the will of the flesh nor of the will of man, but of God.  14  And the Word became flesh and dwelt among us, and we have seen his glory, glory as of the only Son from the Father, full of grace and truth.  15  (John bore witness about him, and cried out, "This was he of whom I said, 'He who comes after me ranks before me, because he was before me.'")  16  For from his fullness we have all received, grace upon grace.  17  For the law was given through Moses; grace and truth came through Jesus Christ.  18  No one has ever seen God; the only God, who is at the Father's side, he has made him known.
John 1:11-18 (ESV)
So, today, would you please consider if you are thankful for the commands and the glory of God? Are you thankful that a loving God stops us, intervenes and offers another path for us to walk…another way to swing our axe? And are you thankful that our God offers us a transformation opportunity where we may be called "children of God" because of His glory? You see, Jesus has made the glory of God available to us, tangible to us, and indeed…transformative for us. Today, I am thankful for the glory of God! I hope you will not leave this Thanksgiving day without also being thankful…and inviting Jesus to save you not only from your sins…but also from your current state of being unprepared for the glory of God. If you have never trusted Jesus for the transforming power to change you – I encourage you to stop right now and call out to Him and ask for his saving – transforming glory and grace.
Happy Thanksgiving!!!
Love,
Bryan
Lead Pastor – Compass Church